Purchase Pearl in e-book AND the Burgundy Essentials Audio Series and use this coupon for 20% off total! See coupon info below.
Created specifically for all wine lovers, from the casual wine enthusiast to the seasoned pro, this 3-year project-in-the-making was expressly designed to demystify what is a highly complex and even intimidating wine region yet enhance the knowledge of those already well-immersed in their Burgundy education.
Precisely because Burgundy is such a vast universe unto itself, Burgundy Essentials methodically distills it down into bite-sized and comprehensible component pieces.  Narrated by Burghound himself, this nearly 10-hour, 7-part series systematically examines every important aspect of Burgundy while helping the Burgundy enthusiast understand all of the must-know concepts.  These key ideas are carefully explained with pertinent information regarding Burgundy's history and regional organization, including in-depth coverage of its world-famous communes and terroirs.  Included is valuable and detailed insider information on how the best wines are grown, vinified and marketed.  Burgundy Essentials is also packed with tons of authoritative advice on world class producers, vineyards and vintages.   There is a plethora of useful tips on how to obtain the best bang for your buck in acquiring value burgundies as well as expert guidance on how to buy and collect up and down the price spectrum and appellation hierarchy.  The program also offers many useful suggestions on how to best serve and enjoy Burgundies.
If you absorb even half of the insights Burgundy Essentials has to offer you will rapidly become a seasoned connoisseur of what many consider to be the world's greatest wines!
PURCHASE INFORMATION- $79.95
As soon as you submit your order you will receive an informative email which will include links to download the Flux Media Player in order to listen to the audio program.  Note:  the audio series will only play with the proprietary media player we provide – the FlickRocket Flux Player.  You may download this player on PC, Mac (OSX), Apple iPhone, iPad and iPod Touch, or Android Tablet and Phones.  Buyers are permitted to download the player/audio series ONE TIME ON UP TO TWO DIFFERENT DEVICES and the media player/audio series will NOT transfer to any other devices or computers so be sure to download on the devices you will be using to listen to the series.  (Of course you can de-license one device and set up on a new one, for instance if you buy a new iPhone.)
20% off COUPON – Special Promotion Purchase Details
FOR A LIMITED TIME, if you purchase the Burgundy Essentials Audio Series AND The Pearl of the Côte in e-book format on the same order, use this 20% off coupon code – audio&ebook (all lower case and no spaces)
When making your purchase, enter audio&ebook (case sensitive, no spaces) in the Redemption Code box, and before you submit your final order, you will see that the coupon was credited. Burgundy Essentials Audio Series is $79.95 and Pearl in e-book is $28.99 for a total of $107.94. This coupon deducts 20% ($21.59) for a reduced total of $86.35!
If you have any questions, please write mrsburghound@burghound.com.
IMPORTANT:  As noted above, as soon as you submit your order, be sure to look for an email in your inbox (or possibly your spam folder).  And of course you can first click on Back to Shopping if you want to buy any gifts while you are logged on to the shopping cart!    The email will have links to download the media player and other important information including a password that will be assigned to you for your new FlickRocket account.
Once you download the FlickRocket Flux Media Player (just as you would any program you download) on your selected device, you will be prompted to sign on to FlickRocket.  This is when you'll use the FlickRocket password included in the automated email as noted above.  Then you simply click on the Audio Series link you will see and it will download into the Flux Media Player.
In the email will be other useful information including a link to the Burgundy Essentials PDF Packet that will provide a variety of support materials you will want to utilize while listening to the audio series.  The packet includes a table of contents with the run time for each section, a conversion table, keyword list, basic map, listings of grand and premier crus, and other useful information.  (As soon as you submit your order, you will also receive an e-receipt which may go to a spam folder since it is automated).
FOR GIFTS:  It is important that the purchaser information be in the BILLING address and the GIFT RECIPIENT in the SHIPPING ADDRESS.  The name and email in the SHIPPING ADDRESS will receive the product.  The e-receipt will go to the email address in the BILLING ADDRESS.  To buy more than one item or gift, after you purchase one, just click the BACK TO SHOPPING link after checkout and you will still be logged in to the shopping cart.
To purchase, please click here.
If you have any questions, please write mrsburghound@burghound.com
---
BURGUNDY ESSENTIALS – SAMPLE CONTENT
Here are links to seven different snippets of the audio program for you to listen to, and below is the Table of Contents:
CLIP 1 – PART I – Track 1 – Welcome to Burgundy Essentials (3:21 clip)
CLIP 2 PART II – Track 1 – The AOC System and Label Nomenclature (2:34 clip)
CLIP 3 PART IV – Track 1 – Chablis (3:07 clip)
CLIP 4 PART V – Track 4 – Fixin (3:09 clip)
CLIP 5 PART V – Track 5 – Gevrey-Chambertin (1:35 clip)
CLIP 6 PART V – Track 6 – Morey-Saint-Denis (:57 clip)
CLIP 7 PART V – Track 7 – Chambolle-Musigny (5:09 clip)
---
THIS ABBREVIATED KEYWORD LIST WILL HELP AS YOU LISTEN TO THE ABOVE CLIPS: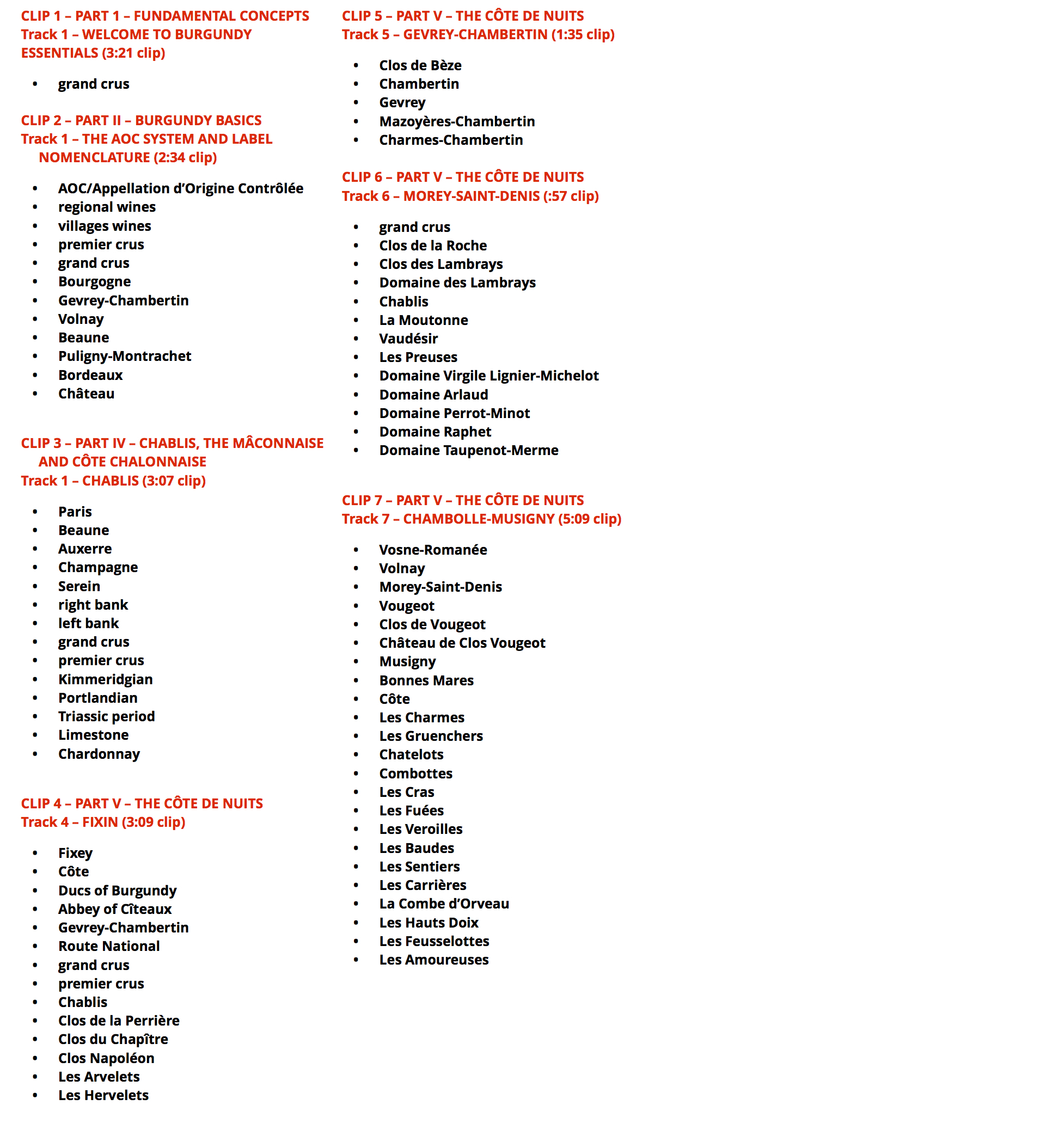 Table of Contents
PART I – Fundamental Concepts
Track 1 – Welcome to Burgundy Essentials
Track 2 – What and Where is Burgundy
Track 3 – The Controversial Concept of Terroir
Track 4 – Geology and Climate
Track 5 – The History and Formation of Modern Burgundy
PART II – Burgundy Basics
Track 1 – The AOC System and Label Nomenclature
Track 2 – Grape Varieties
Track 3 – Viticulture
PART III – Burgundy Vinification
Track 1 – Making Burgundy
Track 2 – Vinifying Red Burgundy
Track 3 – Vinifying White Burgundy
PART IV – Chablis, the Mâconnais and Côte Chalonnaise
Track 1 – Chablis
Track 2 – The Mâconnais
Track 3 – The Côte Chalonnaise
PART V – The Côte de Nuits
Track 1 – Côte d'Or Basics
Track 2 – Côte de Nuits Basics
Track 3 – Marsannay
Track 4 – Fixin
Track 5 – Gevrey-Chambertin
Track 6 – Morey-Saint-Denis
Track 7 – Chambolle-Musigny
Track 8 – Vougeot
Track 9 – Vosne-Romanée
Track 10 – Nuits-Saint-Georges
PART VI – The Côte de Beaune
Track 1 – Côte de Beaune Basics
Track 2 – Ladoix, Aloxe and Pernand
Track 3 – Savigny-lès-Beaune and Chorey-lès-Beaune
Track 4 – Beaune
Track 5 – Pommard
Track 6 – Volnay
Track 7 – Monthélie, Auxey-Duresses and St. Romain
Track 8 – Meursault, Meursault-Blagny and Blagny
Track 9 – Puligny-Montrachet
Track 10 – Chassagne-Montrachet
Track 11 – St. Aubin
Track 12 – Santenay
Track 13 – Maranges
PART VII – Buying, Cellaring and Enjoying Burgundy
Track 1 – How Burgundy is Commercialized
Track 2 – Enjoying and Serving Burgundy
Track 3 – Collecting
Track 4 – Vintages
---
FREQUENTLY ASKED QUESTIONS:
What if I plan to replace my iPhone, iPad or other device with the Flux Player on it? You simply need to open the Flux Player on the device you no longer plan to use and choose SETTINGS from the menu.  Then choose DEAUTHORIZE this device.  You will need to enter your password to deauthorize the device.  Once your old device has been deauthorized, install the Flux Player on your new device and sign-in.
Do I need an internet connection?  An internet connection is only required when downloading new content. Once the content is fully downloaded, you can use the content anywhere but only on the device you download it on as it is non-transferable.
What if I lose my internet connection during download?  If your download is suspended for any reason, just double-click the title or right-click and select Resume Download.
Can I listen to my content while it is downloading?  Provided your internet connection is fast enough, you can begin playback of audio within a few seconds of starting the download, however we suggest waiting until it is fully downloaded or some words may be clipped without your knowledge during playback.  
I see a message about not enough storage?  The content is downloaded to your computer or mobile device. If you see a message warning you that there is not enough storage, you will need to free up some storage space and try downloading again.  The total Burgundy Essentials Audio Series is approximately 535 MB.
How do I download on the second device?  Keep in mind that you are only permitted one download on two devices so be sure to select the correct device first.  From the device you want to download the audio series on, go to http://burghound.flickrocket.com/loginoptions.aspx.   Download and install the Flux Player, then open the Flux Player and sign in using the same email as the first download and the password you were assigned upon ordering (in the information email).  When you double click on the Audio Series, it will download.
I am getting a "Host not found" error in the Flux Media Player?  You are probably behind a corporate firewall that is preventing the Flux Player from accessing the internet. The Flux Player needs access to www.flickrocket.com through port 80 (standard http) and 443 (SSL). You can configure the firewall settings by opening the Flux Player and choosing File>Settings and then clicking on the Network tab.  Your system administrator should be able to provide the necessary settings.  If that does not resolve the problem, you can try temporarily disabling any anti-virus or internet security software to determine if those applications are interfering with the internet connection.  The Flux Media Player is certified virus free.
I downloaded and installed the Flux Player on my computer, but where do I find it?  
– Mac users can find the Flux Player in the Applications folder.  Choose Go>Applications from the main Apple Finder menu. Then locate the Flux Player in that folder and start it. You can also drag the Flux Player icon to the Dock or create an alias on the desktop to make it easier to access.
– Windows 7 users can click on the Start menu and enter Flux Player in the search field. After the Flux Player appears in the list, right-click and pin to the taskbar or send a shortcut to the desktop.
– Windows 8 users can tap the Windows logo key (between the Ctrl and Alt keys) to open the Apps screen. Locate the Flux Player and right-click to add the Flux Player to your Taskbar.
– Windows 10 users can tap the Windows logo key (between the Ctrl and Alt keys) and select All Apps. Locate the Flux Player and right-click to add the Flux Player to your Taskbar.
Can I use AirPlay?  Apple's AirPlay is available for playback of audio on Apple iOS devices.
What are the tabs for on the top of the Flux Player: "Library, Shop, Copy, Burn"?  These buttons have to do with FlickRocket and do NOT pertain to the Audio Series.  Your Library will only have the audio program, and you cannot shop through FlickRocket or Copy/Burn the audio series.
How can I get technical help?  There are several ways to request support, but making the request directly from within the player will help the FlickRocket team (who are responsible for fulfillment and the media player) resolve your problem as quickly as possible. To submit a request, open the player, select Help from the menu, and then choose Contact support. There will be an area for you to enter a detailed description of the problem. Make certain the checkbox is enabled and click Send. You can also contact FlickRocket via email at support@flickrocket.com.
---
Copyright © 2015-23 Burghound.com; ℗ 2015-23 Burghound.com.
All rights reserved. It is strictly prohibited for any part of this audio series to be reproduced, distributed, re-recorded or transmitted in any form or by any means, including recording, or other electronic or mechanical methods, or by forwarding via email, except in the case of brief quotations embodied in critical reviews and certain other noncommercial uses permitted by copyright law. This audio series is intended solely for the enjoyment of the purchaser on the purchase order and may not be forwarded or shared. It is for private individual use only and may not be used for commercial gain. The DMCA criminalizes these acts of copyright infringement. All who infringe, including non-subscribers, will be pursued using all legal remedies.
Burghound.com is completely unaffiliated and has no interest, financial or otherwise, in any winery, importer, distributor, retailer or any other business entity — nor does any third-party entity have an interest, financial or otherwise, in Burghound.com.