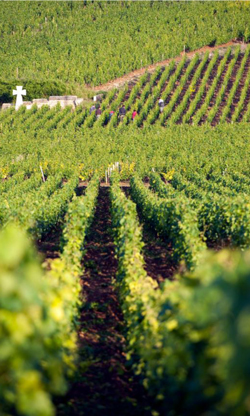 ---
My Promise to you
In addition to unmatched breadth and depth of coverage, what follows is of special importance to me, and to you, too:
I accept no subsidies of any kind, including financial, airfare, hotels, gifts and effectively all meals; the only exception are paid speaking engagements which are not ever for the purpose of reviewing wines. Moreover, we do not request or accept fees for reviewing wines or for providing those reviews to producers once they have been published.
I am completely unaffiliated and have no interest, financial or otherwise, in any winery, importer, distributor, retailer or any other business entity — nor does any third-party entity have an interest, financial or otherwise, in Burghound.com.
I guarantee that every wine reviewed in the pages of Burghound.com, or in the database, has been personally tasted by me. The opinions expressed herein are mine and mine alone.
Burghound.com accepts no advertising of any kind. In short, I offer completely independent reviews and opinions.
Burghound.com is the result of a nearly lifelong passion for the wines of Burgundy. For ~40 years, I have been collecting the wines and visiting the region. Each year I spend over five months visiting, researching, tasting, exploring and evaluating. Burgundy is my obsession really. In addition to our reviews of red and white burgundy, to expand on my coverage of the coveted pinot noir grape, we provide continuous coverage of both Oregon and California pinot noir, with rotating coverage of Champagne and occasional special reports from other pinot producing regions.
What I'm offering is what we, as collectors, have always wanted: quality advice on what to buy and answers to "Who's got the goods? And what makes them so good?" In other words, this is a site for burgundy and pinot enthusiasts – whether new enthusiasts or grizzled old guzzlers.
Because Burgundy is so fiendishly complex, so frustratingly inconsistent and maddeningly difficult to separate the real deal from the look-alike pretenders, I've created several features to make understanding burgundy easier and help consumers with their burgundy, and pinot, purchases. I've also included suggested drinking windows.
It is important to keep in mind that to review the wines of Burgundy, I choose to take the methodical route, going from cave to cave and tasting carefully and at the right time – not a "line 'em up and knock 'em down" approach. I do not review wines at trade tastings, as it's frankly not an ideal approach. That explains why I spend over five months a year in Burgundy tasting grower by grower.
Your Subscription Entitles You To:
A comprehensive and detailed Quarterly Journal that offers real breadth and depth of coverage (the average issue is over 200 pages). I decided to write this journal the way I had always wanted to see one but could never find. Sure, it offers plenty of guidance on what to buy and what to avoid. But it is also packed with the important details that put the wines of a given domaine/producer in the right context. There are also retrospectives that offer excellent guidance on when to drink your collected treasures. Each issue also includes a vintage report, weather and harvest summaries on the wines, a section on What to Buy, a recap of the previous vintage, and an En Plus section that includes Champagnes and/or wines that are reviewed outside the theme of the current issue. Click here to see a sample review!
California and Oregon pinot reviews are incorporated into each issue. Click here to see a sample!
Progress and/or Special Reports are included in each issue. Just to name a few, "Méo-Camuzet Richebourg Complete Retrospective 1985-2006," "A Vertical of Marquis d'Angerville Volnay Clos de Ducs, 21 Vintages from 1920-2008," "19 Vintages Spanning 40 years of Henri Jayer Richebourg, 1957-1987," "20 Vintages of Grands-Echézeaux from the Domaine de la Romanée-Conti, 1937-2002," "Domaine Mugneret-Gibourg Echézeaux Vertical, 11 wines from 1953-2000," "A Series of 6 Special Tastings from Maison Bouchard Père & Fils, 86 Wines from 1846-2003," "10 Decades of Romanée St. Vivant, 37 Vintages and 135 Wines from 1911-2001," "Domaine Georges Roumier Verticals – Bonnes Mares, 33 Wines from 32 Vintages Dating 1923-2004 and Musigny, 14 Wines from 14 Vintages Dating from 1934-2003," and more.
A fully Searchable Database of tasting notes contains ~117,500 burgundies (red and white), pinot noirs and Champagnes from over 2,920 producers and 154 vintages, dating back to 1845. This is a powerful tool that makes finding what you want to know fast and easy. You can search on a variety of parameters, such as vintage, score, producer, appellation, "Top Value" selection, color issue number and more. Each year subscribers conduct millions of searches, proving this to be an invaluable tool! Access is concurrent with receipt of four quarterly issues/year. Click here for more information and a sample!
The Insider's Guide to Visiting the Côte d'Or and Chablis, updated March 2020, is filled with information about the best hotels and restaurants plus other important tips to make your visit the best ever. This electronic Guide is complimentary with 2 and 3 year subscriptions or can be purchased separately. Click here for the details!
Back issue wine reviews, as well as thousands more, are in the database from ALL Burghound issues! So if you are interested in Allen's review from Issue 2 written in 2001 on the 1999 Nicolas Potel Volnay Vieilles Vignes, it's there!
Past articles are rotated in the Member's area throughout the year. We pull all of the noteworthy articles and progress reports from all issues and post them on a rotating basis for our active subscribers to download and enjoy. Click here to learn more!
Burghound Glossary is available for members to help with their Burgundy journey. Click here to learn more!
CellarTracker users conveniently have Burghound reviews integrated through their CellarTracker account.
Wine Retailers who are active subscribers can have their contact information listed on our website. Click here to see the list. In their search to acquire burgundies, subscribers visiting various parts of the world frequently ask us for knowledgeable retailers. Obviously we know our subscriber retailers are the most knowledgeable so we are happy list them and provide this resource for website visitors.
All Burghound Website Guests Can:
Enjoy the Selection of the Week. Each week we feature a different burgundy or pinot that I rated as a top value. While there will be a mix of vintages, most wines featured will be those that can normally be found at a variety of fine wine retailers. Each wine will be described and rated with a suggested window of peak drinkability indicated after the numerical score. Click to view this week's selection!
Order Back Issues of the Quarterly Journal which are available for separate purchase, either individually or in an archive set. (Subscribers have access to EVERY wine ever reviewed in ALL Burghound issues through the database – going back to Issue 1!) View summaries of the contents of all back issues! (Subscribers never have to purchase back issues if they neglected to download them during the active term of their subscription or have otherwise lost them. Just write MrsBurghound@Burghound.com and request a duplicate electronic issue.)
What You Do Not Get:
We do NOT accept any paid or "in kind" advertising; nor do we request or accept fees for reviewing wines or for providing those reviews to producers once they have been published.
We have no conflicts of interest as we are completely unaffiliated and have no interest, financial or otherwise, in any winery, importer, distributor, retailer or any other business entity – and vice versa.
We never share or sell your email address or other information.
Here's the deal:
The Journal and Database are combined as one product that includes access to the Mobile Edition and all perks listed above. The Travel Guide, available in PDF electronic format only, is a separate product that is available for purchase or can be obtained at no charge with a 2 or 3-year subscription. If you have any questions, please do let us know.
Copyright © 2001-2023 by Burghound.com; published quarterly. Access via subscription only. All rights reserved and unauthorized reproduction, redistribution, retransmission or commercial exploitation of Burghound.com content, including the database, is strictly prohibited without the express written consent of Burghound.com. Integration or access to content using computer integration (Web Crawlers, Spiders, Robots, etc.) designed to automatically integrate/download the information in the database is strictly prohibited. Subscriptions are only for the individual subscriber and user names/ passwords/content are not to be shared. Discounted corporate accounts are available for firms requiring multi-users. Active subscribers in the news media and wine trade may use limited wine reviews provided that Burghound.com is properly credited. Retailers are responsible for ensuring the quoted information is correct and as printed in Burghound.com. Reproduction of vintage reports, narratives and progress reports is expressly forbidden. "Limited wine reviews" is defined as the reproduction of Burghound.com's entire wine review and score, and is anticipated to be under 100 reviews at any one time by a retailer or individual in the wine trade. Licensing fees are due Burghound.com should an entity use in excess of 100 wines at any given time, as determined and agreed between the parties. Upon determination of violation of any of these conditions, subscription will be immediately terminated without any refund of the subscription fee. Commercial exploitation of Burghound.com content is strictly prohibited. See full Terms and Conditions.
And Now A Word About Money …
The annual cost for four quarterly electronic issues (and unlimited access to the database for the term of receipt of the four issues) is $160. Two years is $285. Three years is $410. Two and three year subscriptions include the complimentary electronic Travel Guide. Any way you look at it, it's not much money compared to the painful cost of landing on bad burgundies or pinots; consider that it's only one bad bottle of top flight wine and you've paid for an entire year. The best edge you can get as a burgundy/pinot buyer is timely, well-judged knowledge. That is what I strive to provide.
Click on the link below to get all of the relevant details, including the option to also receive professionally printed versions of the journal if you prefer. And feel free to poke around the site and be sure to voice your opinions to let us know what you think.
Sincerely,
Allen Meadows