Subscribers have access to the ~118,500-wine [as of 12/2022] database for the period covering the receipt of four quarterly issues per year, with vintages dating from present day to 1845 – 154 vintages in total with over 2,943 producers. Every review from every Burghound issue is included, as well as thousands of additional reviews by Allen from his own personal notes/tastings. It is fully searchable by producer, color, vintage, score, appellation, issue  number, "drink now", or by "Top Value", "Don't Miss" or "Sweet Spot" Burghound.com ratings. Each year subscribers conduct millions of searches, regularly utilizing this valuable tool to help with their buy/sell decisions, or when to drink or what to open!
You may also search by region: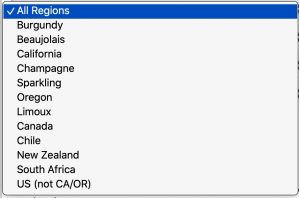 It's easy to use. Let's use BONNES MARES as our sole search criteria in the QUICK/KEYWORD SEARCH. I only typed "Bonnes Mares":
(You may click on the images for a larger view if needed.)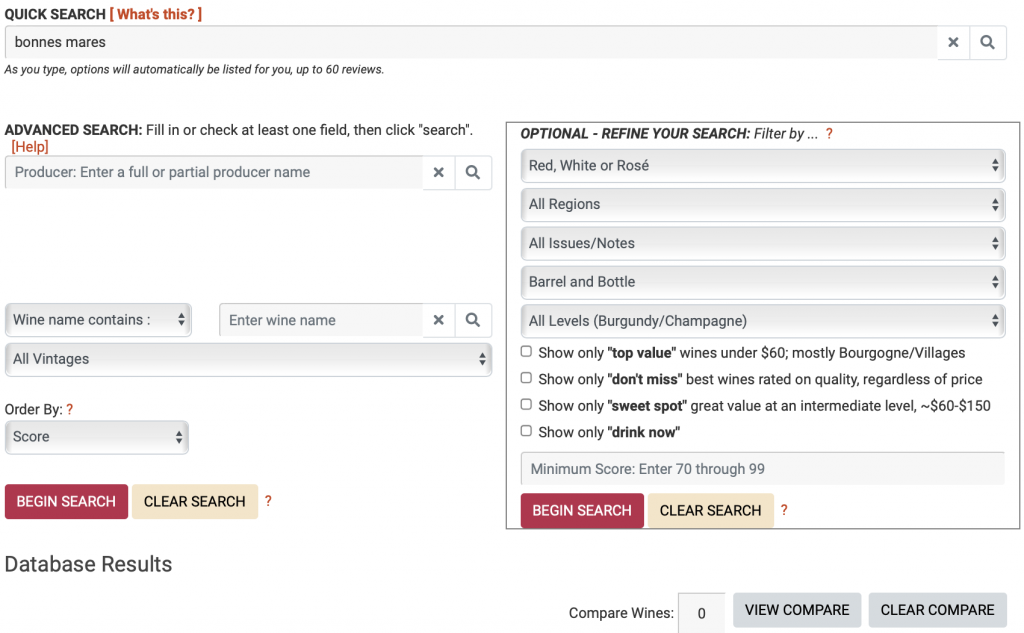 You will see that you get 939 results (these were sorted by vintage recent to oldest):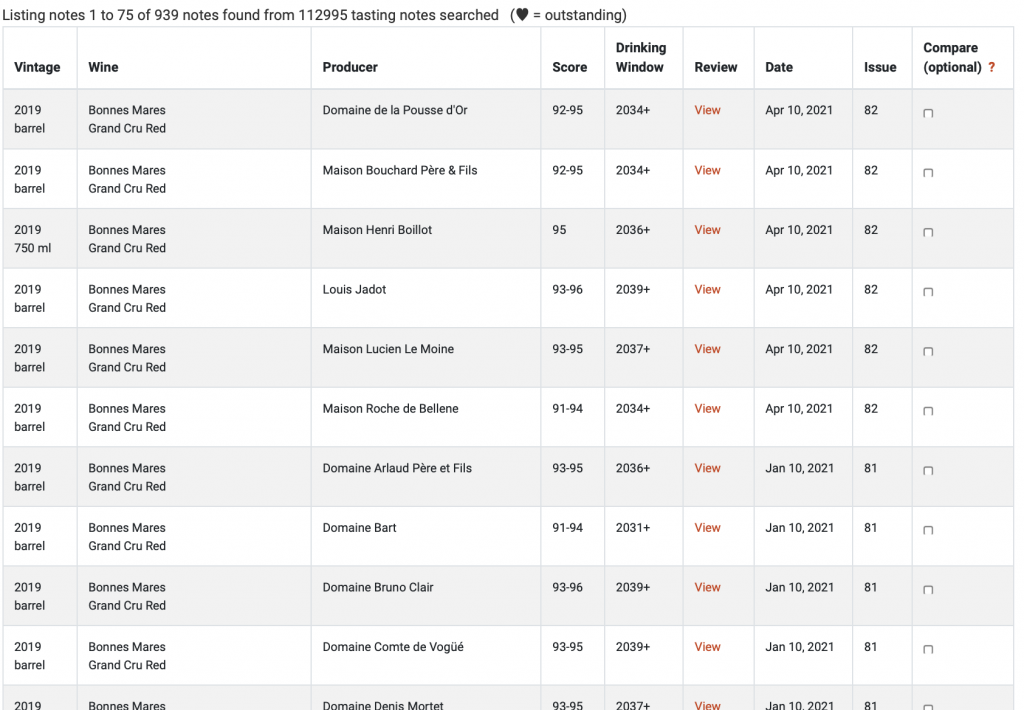 You would of course narrow the search by score, producer, vintage, drink now or other criteria.
Once you select a wine, you simply click view. Below, you will see Allen's full producer note and tasting note – as well as the date tasted, score, issue, and drinking window – in this case, it's a candidate for long term storage. Finished, bottled wines are assigned a single score, as these wines are market-ready. Wine tasted from barrel are scored within a range, which simply reflects the reality that they are not finished, market-ready wines – so they get a range such as 93-95, in this example. Also in this example, you see that this wine was added to the Don't Miss category. You are able to search burgundies by: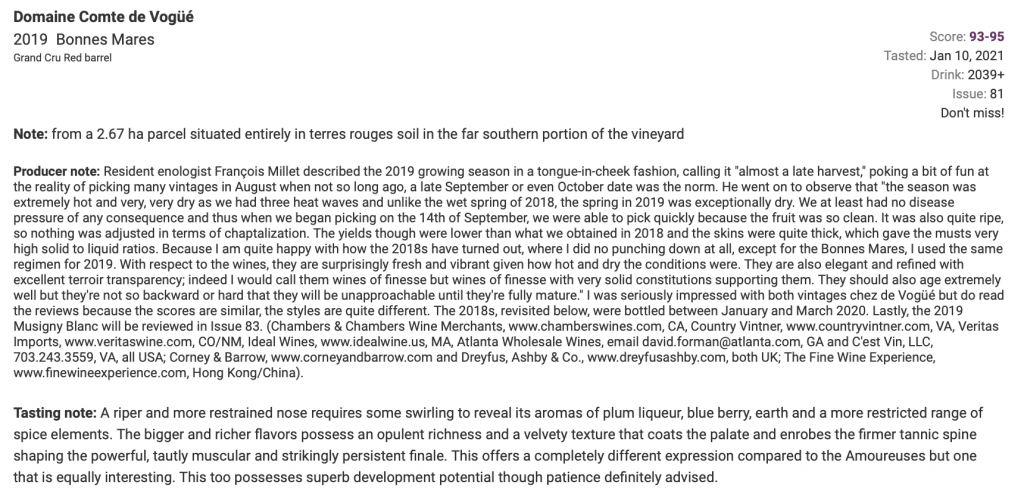 Once you are a subscriber and learn the many search features available on the database, you will see how easy it is to enter wines in a comparison basket.
You can select up to 20 wines to compare. Just check the box by the wine(s) you want to select and hit VIEW COMPARE.
In an example where I happen to own a fair number of 1ER CRUS from WILLIAM FEVRE, and I want to consider selecting one or two that are ready to DRINK NOW, I set this search criteria in 5 quick steps:
1. Enter William Fevre in PRODUCER field
2. Selected BOTTLE to get only in-bottle reviews (it defaults to ALL, barrel and bottle)
3. Selected 1er CRU for LEVEL (it defaults to all levels)
4. Changed ORDER BY to VINTAGE RECENT TO OLDEST (it defaults to SCORE)
5. And I selected the DRINK NOW BUTTON
Then I just hit enter on my keyboard or BEGIN SEARCH on the screen:

As I scroll through the results, I own a number of the wines listed so I want to compare by looking at the specific reviews (this tool is also handy when considering what to buy). In this case, I select 5 wines to see the reviews together.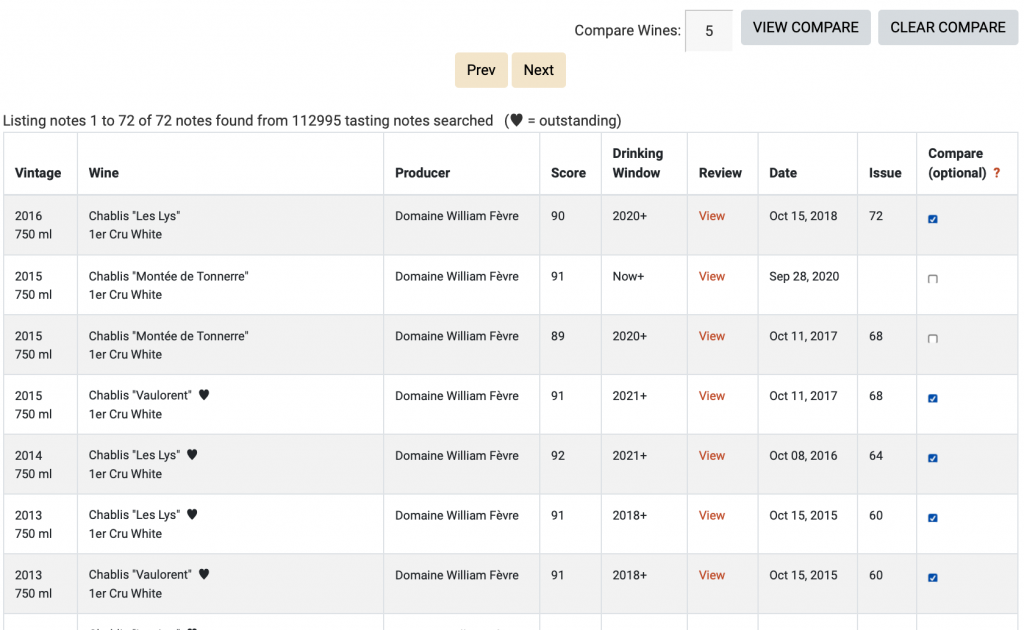 At the bottom and top of the results chart, it shows that I have selected 5 wines to compare. Once I click on the VIEW COMPARE, I am taken to a screen that has all 5 wines reviews listed together. On every review, there is a PRINT option if desired, and in the VIEW COMPARE option, you can print all 5 selections together.
For more detailed information on the functionality of the database, you can visit: https://www.burghound.com/wordpress/wp-content/uploads/First-Time-Using-Database.pdf