We currently have a team of programmers providing updates to our full wine database and it will make the abbreviated Mobile Edition obsolete.  Due to responsive design, subscribers will soon be able access the full database, even on a smaller mobile device.  So the following will be inapplicable as soon as the new design is complete.  Stay tuned for more info.  April 2021
Current subscribers may access an abbreviated (no producer notes, etc.) Burghound database on their smartphones through our Mobile Edition. We created this to help you out if you are at a restaurant or in a retail shop and need some quick support – it is an ABBREVIATED database and is not meant to replace the full database. We have added a handy "drink now" button to the mobile edition since we assume you may need to make a "buy now/drink now" decision! This will make it easy for you to search through the ~100,000 wine reviews on your smartphones.
WE STRONGLY SUGGEST YOU USE THE REGULAR DATABASE ON IPADS, TABLETS AND LAPTOPS – and be sure to log out!
iPHONE UPDATE: We have been made aware that a subscriber's password may not save in the mobile edition depending on the systems it is running on. Since we are replacing the abbreviated version, this is a short term problem.
The correct mobile site address is http://bhdb.me (NOT burghound.com). But before you go there, please read on!
Subscribers have written that our Mobile Edition has worked on all smartphones with the exception of the Torch. Due to a design error by Blackberry, the Torch is only set up for user names of 20 or fewer characters so if you email address/user name is longer than 20 characters you will not be able to access the database. Of course if you have a shorter email we can change your email address/user name if you like.
The Blackberries best suited for the Burghound Mobile Edition (BME) are any of the touchscreen models. For iPads and tablets, with their large screens, we recommend you use the regular site/database as more information is available; however, see below for important information on the Samsung Tab when using BME *.
Go directly to the mobile edition on your smartphone (DO NOT GO to www.burghound.com but go directly to the mobile edition). You can enter your user name and password and then bookmark http://bhdb.me/ (note: NOT www.).
---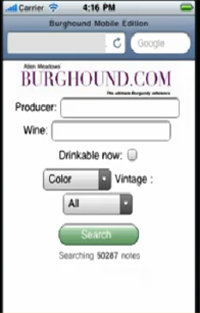 Above, note the mobile "drinkable now" button to help you with on-the-spot wine purchases/selections at a retail shop or restaurant.
Below, the natural progression – enter a producer and wine; in screen two you have several reviews to choose from; in screen three you get the review in a format that is easy to read on a smartphone.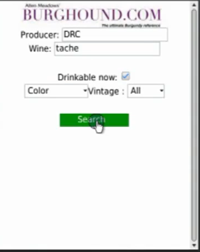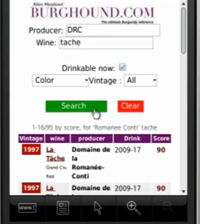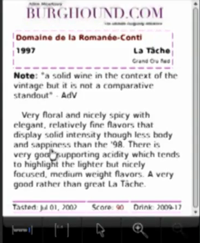 * If you have a Samsung Galaxy Tab and are using the BME, you may have gotten an error message about having too many windows open. This happens because the standard Android browser has a limit of eight (8) windows open at once. On BME, each note is opened in a new window on platforms that can do this. This allows you to keep that note, and search for or look at other notes, then easily come back to one or more you've saved. However, this also means you need to delete windows you are no longer interested in.
See the pictures below for step-by-step instructions to resolve this issue.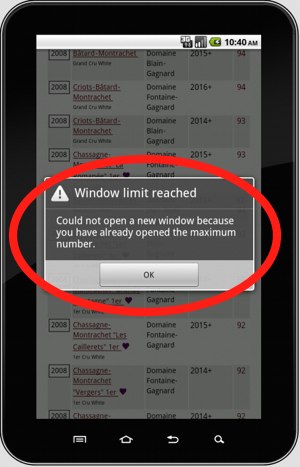 Here is the error message you may see: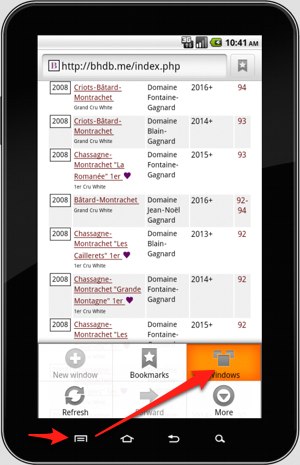 This is the menu item that manages windows on the Samsung. Tap and you'll see the window that follows. (This screen also allows you to switch between different open windows)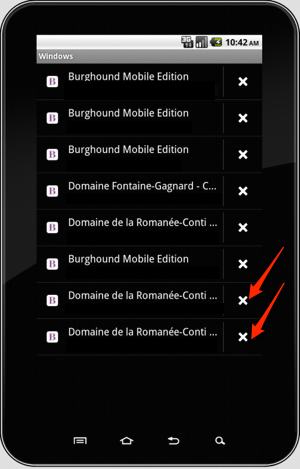 The X allows you to delete unused windows.